Ladies and gentlemen, this is your Captain speaking! Welcome on board…
My name is Jeroen. I am an aviation enthusiast, aviation photographer and airline pilot born in the Netherlands. AviaView is the name of my personal aviation photography website. On this website and on my social media channels you can find my most interesting and best pictures, mostly related to my passion for my job as airline pilot or aviation in general.
Becoming a pilot
I have always wanted to become a pilot ever since my first flying experience. During secondary school I made the right choices of subjects to have the best profile to become a pilot. In the year of 2011 I finished my secondary school and that same year I decided to make my childhood dream come true: to become a pilot. I orientated myself on which flying school I wanted to go by visiting open days of various flight schools. I did a few assessments for different flight schools. I passed the assessments at Martinair Flight Academy in the Netherlands, one of my preferred choices of flight schools. In August 2011, at the age of 18, I started the pilot training as an ATPL Integrated Course at the Martinair Flight Academy. After more than two years of intensive training and flying through the busy airspace of Europe I graduated as a commercial pilot in January 2014 holding a Commercial Pilot Licence. Unfortunately I finished my pilot training at the time when it was really hard to find a job as a pilot because of aftermath of the financial crisis. After my pilot training I took some other aviation jobs. I had several different jobs on the ground for a major Dutch airline for two and a half years and I also worked six months as a cabin attendant with a Dutch low cost airline.
In the beginning of 2018 I finally got the job I was looking and hoping for. Just over four years after finishing the initial pilot training I finally succeeded to get a position as First Officer at one of the biggest low-cost airlines in the world. In September 2023 I reached a new milestone in my aviation career as I made the promotion to become a Captain on the Boeing 737-800 and Boeing 737-8200 (MAX) at the same airline. A childhood dream made true.
Aviation & Photography
Aviation has always been my passion. When I was a child I always looked at everything that was flying. Smaller aircraft over my house and also the big airliners flying over at high altitudes were always fascinating me. My first flight on an airliner to a holiday destination in Turkey at the end of the 90's really started the passion for aviation. Sometimes I travelled to a regional airport with my grandparents to watch airplanes landing and taking off.
The hobby of making pictures of aircraft started back in the year of 2007. That year I went to Amsterdam Schiphol Airport with a small pocket-size digital camera for the very first time to photograph some airplanes. All those aircraft landing and taking off really impressed me that day. They impressed me so much I decided to make this my hobby. Shortly thereafter I decided to buy my own first digital camera. Over the years I also started photographing all kind of things other things of my interest, like the weather and nature.
AviaView [ey-vee-ey-vyoo]
composition of the words 'aviation' and 'view'
noun
Watching airplanes taking off and landing; also known as planespotting
The views of my job as commercial pilot in aviation; The sharing images on social media of my office (Boeing 737), destinations and external views
My personal opinion on events happening in aviation; When appropriate sharing my personal view and opinion on general aviation events and topics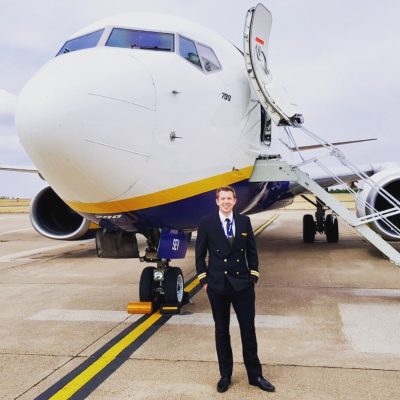 Equipment
Canon EOS R
Canon EF 100-400mm f/4.5-5.6L USM IS Type II
Canon RF 24-105mm F/4L IS USM
Samyang RF 14mm F/2.8
GoPro Hero 7 Black Edition
iPhone 13 Pro 512GB
0
flying hours on the Boeing 737